I think I'm a pretty good driver.  I obey traffic laws, I don't speed (and get caught), and I understand that it is so important to use my blinkers to communicate on the road.  I hate being behind a driver who decides at the last minute that he or she wants to move to another lane or make A COMPLETE TURN without putting on their blinker?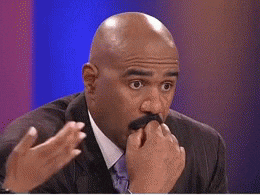 HOW AM I SUPPOSED TO KNOW THAT? What the driver in front of me does determines what I am able to do.  That is also why I get so annoyed when drivers in front of me stop short at a light or on the highway…especially when there is no traffic in front of them.  I immediately have to slam on my brakes and gather my nerves before I hit them in their bumper (and immediately be responsible for any damages smh).  Let's just say that driving has tested my patience …and what I deal with on the road, I am realizing that it translates to my daily life.
I've been dealing with impatience HARD for the past couple of weeks.  I sometimes feel that God has forgotten about me and that He hasn't remembered me …especially when I see that He is remembering other people.  I sometimes think, "Lord, why are you slamming the breaks in my relationship? In my finances? I DO EVERYTHING RIGHT SO WHY CAN I NOT GO? WHY DO YOU KEEP STOPPING SHORT WHEN THERE IS NOTHING VISIBLY IN FRONT OF YOU (& ME)?!"
I'm foolish.
I am realizing that the issue is not with God or other people but with me.  I've set my affections and desires on what other people are getting.  Instead of trusting God that He has my best interests in mind and is hitting brakes for something that He (in His brilliance) can see, I'm so short sighted in my focus that I miss the protection of God.  I'm focusing so much on that car – I should have it and That ring – I should DEFINITELY have it.  That money – I should have it.  All of those things are taking my focus off of God and …the results are leaving me with a heart space that is unhappy and jumping back and forth between gratitude and grumpiness.  Not cool.
I decided that today I needed to get some Word in me so I can get my life. For real.  I normally keep my desk flooded with post its with scriptures written on them and the theme that I'm focusing on.  I have post-its from Proverbs 19:21, Psalms 25:15, Luke 6 …the list goes on.  I was about to write another one when I looked upon an oldie but goodie –
James 1:4: "And let endurance have its full effect, so that you may be mature and complete lacking nothing."
Full effect.  Lacking nothing.
My eyes were so focused on what I don't have that I haven't even had the mind to thank God for the things that are in my possession already.
I found myself immediately praying at my desk, "God, help me endure.  Help to become grateful for the endurance.  I don't want to lack anything.  I want to mature and be complete."  That has been a different prayer than what I've been saying or feeling.  But I thank God because I realize that whenever I have to wait for something, it's because God is preparing the space in my life to really run with the thing or the experience that He is about to give me.
I immediately think about my desire for marriage (after 4 years of dating), and I am looking at Aaron like …"Bro, you trying to put a ring on my finger or naw?" lol.  But I realize that my story isn't anyone else's story and even though I would LOVE for us to progress to that step, God wants me to be in a position where I am complete and lacking nothing BEFORE I can accept the next step. I think it's because God wants me to know that marriage WILL NOT complete me but my FAITH IN HIM will.  And that faith will carry into that marriage (or whatever else is in my path).  If I have premature faith now, I will take that into my marriage, into my job, into my new endeavor and lose out on the peace of God.  God wants me to mature in my faith so that I can live despite the worries that come.  (Hard to accept but true nonetheless.) That's a powerful notion and it's one that I need to accept and continue to dwell in.
So, let endurance, let the trial, let the temporary STOPS we see in our lives take full effect so that we can grow and become complete.  God's STOP doesn't mean END …it usually signifies a whole new BEGINNING.  I want that for my heart and my life.  Even though it may seem like I'm stopping short in one regard, if I approach God through faith, I will realize that I'm not stopping short …I'm stepping into something perfect and complete.
So I praise God for that!  Let's not let any stops in our relationships, our plans, our lives defeat us! Let it build our faith so that we can endure, we can stand, we can be complete.
Love you all.  Thanks for reading! I pray this encourages you as it is currently doing for me.
xo Neish